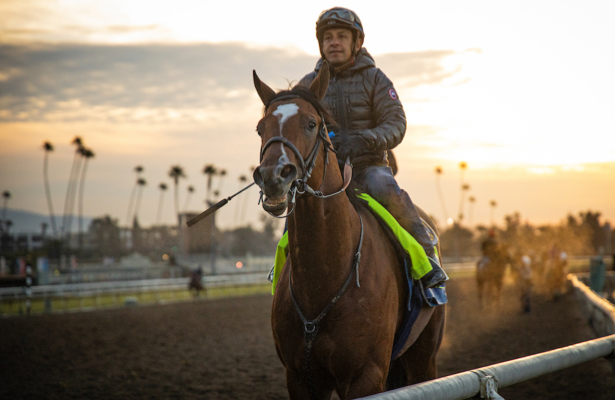 Terry Meyocks, president and CEO of the Jockeys' Guild, said Friday that his organization will meet early next week with The Stronach Group's board to discuss announced changes that could impact jockeys at Santa Anita Park and Golden Gate Fields.

In particular, The Stronach Group's Belinda Stronach called for a ban on all race day medication, including Lasix, and stated that the whip "should only be used as a corrective safety measure."
"While we firmly believe our jockeys have not purposely been mistreating their mounts," Stronach added in an open letter Thursday, "it is time to make this change."
Meyocks said "we need to have a conversation" about the new rules, which follow 22 equine deaths in training or racing at Santa Anita since Dec. 26.
While no timeline was provided for implementation, TVG's Christina Blacker reported that signage enforcing the new whip riles in both English and Spanish appeared Friday morning at the entrance of the track for riders heading out for training.
Blacker said multiple jockeys on site declined to be interviewed on camera.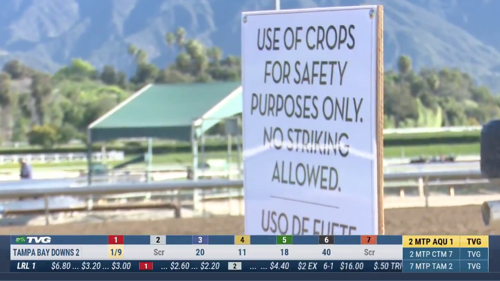 The Stronach Group alerted the Jockeys' Guild to the forthcoming changes before the announcement, Meyocks said. That's in contrast to the feedback of number of prominent trainers, among them Hall of Famer Jerry Hollendorfer, who 
told Horse Racing Nation
they found out about what Stronach called a "watershed moment" along with the general public.

It's expected the Jockeys' Guild will push for riders to carry a whip, now also referenced as a "crop," but to what extent they will be able to use them in California remains unknown.
Meyocks recalled a conversation years ago with retired Hall of Famer Chris McCarron, who suggested referring to a crop, and said that since then the equipment has also evolved.
"We changed the popper," Meyocks said. "It's much more safer. It's more equine friendly. Horses are not getting hurt like they were before."
Meyocks said that in the last eight or nine years, he has heard three complaints about over-use of a whip that may have injured a horse.
"We've tried to get the industry to talk, tracks to talk and commissions to talk about it," he said. "It's very difficult to build awareness of that — that we have changed the popper and it's much more equine friendly.
"…Maybe that message hasn't risen to the public as much, but I think people in the industry are aware of it."
As for the anti-bleeding medication Lasix, the Jockeys' Guild chose not to fully support the Horseracing Integrity Act when introduced in 2017, saying in a statement that "we believe it is necessary for the safety of both the horse and the rider."

The Horseracing Integrity Act seeks to create a national anti-doping agency under government control, increase out of competition testing and eliminate use of performance-enhancing drugs — of which it says Lasix qualifies — in training and racing.
"The Guild believes that until there is a consensus reached within the industry that the elimination of Lasix on race day is in the best interest of the horse, it should not be prohibited," the statement further reads. "In addition, the Guild strongly suggests that all racing jurisdictions adopt rules requiring the administration of Lasix on race day be done by a licensed, independent third party."
Meyocks said Friday his group has not discussed Lasix since then, but that it would be part of next week's meeting with The Stronach Group.
"Nobody wants to see a horse get hurt, but we've had 150 deaths of jocks in races," Meyocks said. "We need to make sure human athletes are protected as well. Lasix is very important to riders as well as the use of the riding crop.
"…There needs to be further dialogue with the entire industry, making sure we're doing the right thing for the industry — for the game. The game's bigger than ourselves."